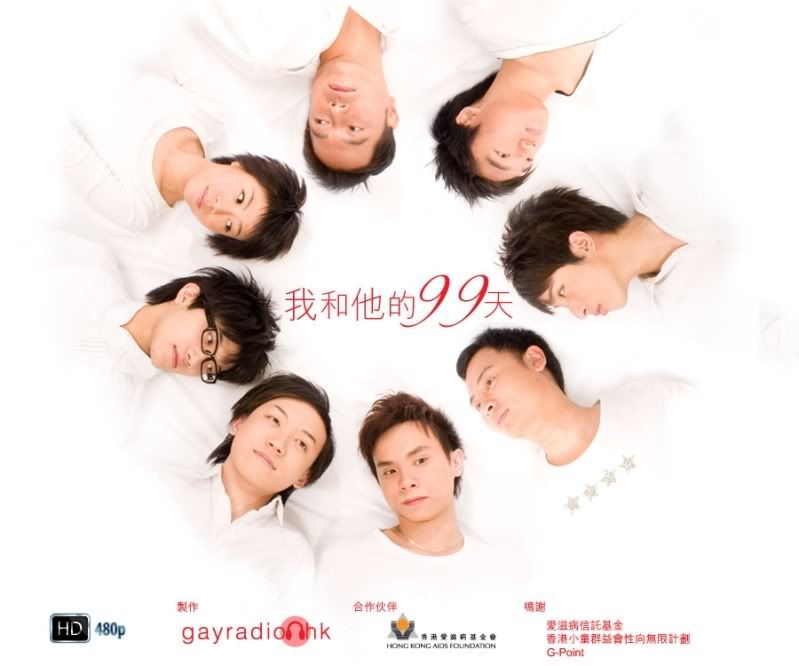 TITLE:
99 Days
我和他的99天
EPISODES:
8 episodes; 13-23 minutes each
MAIN CAST:
Zeon Chang as Chris/Lok (20 years old)
Bosco Jiu as Tom/Chun (16 years old)
Tommy Wong as Don (16 years old)
North Chalk as Mike (28 years old)
King Wong as Jerry (16 years old)
Philip To as Will (19 years old)
Berry Lee as Ben (33 years old)
Lilian Ng as Dora (25 years old)
PRODUCERS:
GayRadioHK
HongKong Aids Foundation
SUMMARY:
On 1 December the World Aids Day, while Ben was leading voluntary workers to distribute red ribbons, Mike thought it is a good chance to get along with handsome guys. He met the agreeable Chris and even molested him; Don was hurt in a fight when he came out as a gay, making Tom hid his sexual attitude in a darker shade; Mike called for a repair for his broked tap, then to his surprise, the plumber was …?
This is the stories of a bunch of gays who are all related to each other, one way or another, with or without their awareness.
Official Site
WATCH ONLINE:
Episode 1
Episode 2 Part 1
Episode 2 Part 2
Episode 3 Part 1
Episode 3 Part 2
Episode 4 Part 1
Episode 4 Part 2
Episode 5 Part 1
Episode 5 Part 2
Episode 6 Part 1
Episode 6 Part 2
Episode 6 Part 3
Episode 7 Part 1
Episode 7 Part 2
Episode 8 Part 1
Episode 8 Part 2
Episode 8 Part 3