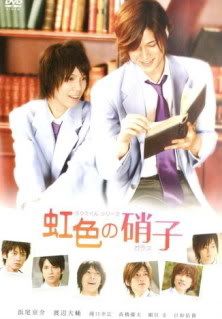 Release Date:
April 25, 2009
Language:
Japanese
Director:
Kenji Yokoi
Main Cast:
Watanabe Daisuke, Kyousuke Hamao
Summary:
Goto Shinobu's pioneering yaoi light novel series Takumi-kun traveled to the big screen in 2008 with Soshite Harukaze ni Sasayaite. The boys love adventures now continue with the second live-action film in the series, Niji-iro no Glass, directed by Yokoi Kenji. The cast has changed, but the tales of romance, friendship, and all that angst at an all-boys boarding school remain the same. After going through all the drama of the first film, Takumi and Gii are now a couple in Niji Iro no Glass, and the envy of the school. But their relationship hits some rocky times with the appearance of first-year student Morita.
Watch Trailer!
Watch "Niji Iro no Garasu" Online!
Official Site