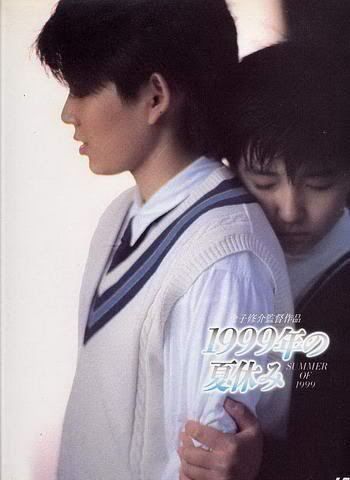 Release Date:
March 26, 1988
Language:
Japanese
Director:
Shusuke Kaneko
Main Cast:
Eri Miyajima, Tomoko Otakara, Miyuki Nakano
Summary:
Summer Vacation 1999 has emptied a Japanese boys' school of all but three boys: the junior Norio & the seniors Kazuhiko & Naoto. They have no families to return to for the summer, so they spend their days in the empty school. A darkness hangs over the three however: the suicide, three months earlier, of classmate Yu. Norio blames Kazuhiko for Yu's death, because it was well-known that Yu loved Kazuhiko; so Kazuhiko is cruel to Norio, and yet has bad dreams. This uneasy arrangement is exacerbated by the arrival of Kaoru, a student early for the fall - who looks exactly like Yu. Romantic and beautifully realized, this film tells the story of four boys who experience the adolescent birth pangs of romantic love, sexual awareness and jealousy. Left behind at boarding school during their vacation, the teenagers' summer idyll is disrupted by the arrival of another youth who seems to reincarnate a dead friend. Delicate and provocative, Kaneko's film creates a haunting image of youth suspended between innocence and experience, androgyny and sexual maturity.
Watch Trailer:
DOWNLOAD:
To download you must sign up for a free account and you must have a torrent program. (ie. BitTorrent)
Summer Vacation 1999
English Subtitles for Summer Vacation 1999
*Make sure after downloading both files to rename the srt(sub file) to the exact same name as the video file. Also they must be in the same folder for the subtitles to work.