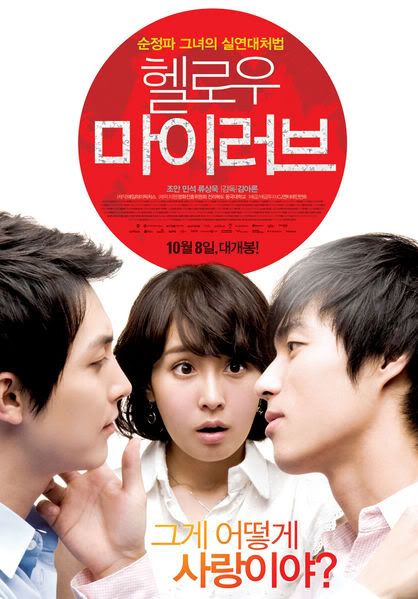 Release Date:
October 9, 2009
Language:
Korean
Director:
Kim Aaron
Main Cast:
Min Seok, Jo An, Ryoo Sang-wook
Summary:
Radio host Ho Jeong is eagerly anticipating the homecoming of her boyfriend of ten years, Won Jae, who's been in Paris for the last two years. Practically already a part of his family, she's expecting him to pop the question when he returns. Instead, Won Jae brings back his male roommate Dong Hwa, who seems to never leave his side. Ho Jeong thinks they're just planning to open a wine restaurant together - but it turns out they're actually together. An unconventional romantic comedy unfolds as Ho-jeong tries to win him back from a rival she never imagined having.
Watch Trailer:
DOWNLOAD:
(YOU MUST USE HJSPLIT TO WATCH THE MOVIE...For HJSLPIT tutorial refer HERE!)
Part 1
Part 2
Part 3
Part 4
Part 5
ENG SUBS
BUY "Hello My Love" DVD with English Subtitles!