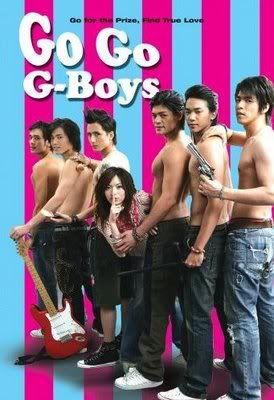 Release Date:
November 6, 2007
Language:
Mandarin
Director:
Jong-Jong Yu
Main Cast:
Tang Chen Kang, Tae, Yu Fa Yang
Summary:
Hong needs to pay off his girlfriend's debts pronto or answer to the fists of some very unfriendly gangsters. Lured by the NT10 million cash prize, he decides to join the G-Boy gay beauty contest. Hong's gay best friend Shin, who has been in love with Hong for years, also joins the contest to help him out. Hong isn't the only poser in the group though; there's also undercover cop Jay who's investigating a bomb threat. Swept into a very different world, Hong and Jay not only have to master the ins and outs of pretending to be gay, they also have to face their own reservations and uncertainties about sexual orientation. With the crown and their friendship on the line, Hong is finally forced to confront his ambiguous relationship with Shin and the feelings that have remained unvoiced for so many years.
Watch Trailer:
Watch "Go Go G-Boys" Online!
BUY "Go Go G-Boys" DVD with English Subtitles!