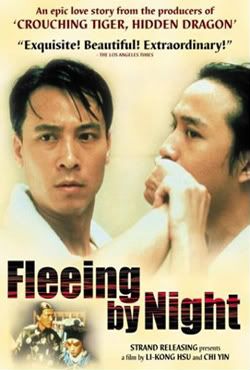 Release Date:
October 14, 2000
Language:
Mandarin
Directors:
Li-Kong Hsu, Chi Yin
Main Cast:
Rene Liu, Huang Lei, Yin Chao-te, Tai Li-jen
Summary:
Set in China in the 1930s, the film is about the unsettling relationship between three characters. Ying'er, the daughter of a theatre-owner, welcomes the return of Shao dong, her fiancee and a fine cellist who has returned from America. Shao-dong soon finds himself captivated by the opera "Fleeing By Night" and its celebrated actor, Lin Chung. He soon finds himself smitten by Lin Chung. However, Shao dong finds that a rich kid, Huang Zilei is also vying for the affection of Lin Chung. Ying'er becomes torn between her affection for both men and with a growing awareness of the intimacy between them, she finally surrenders her own love to the stronger passion between the two men.
Watch Trailer:
BUY "Fleeing by Night" DVD with English Subtitles!