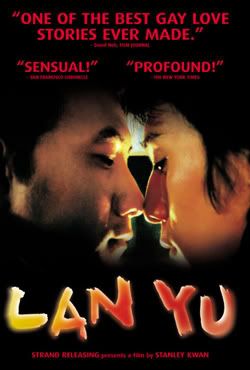 Release Date:
November 22, 2001
Language:
Mandarin
Director:
Stanley Kwan
Main Cast:
Ye Liu, Jun Hu
Summary:
Lan Yu tells the story of a young, gay architecture student and his ongoing relationship with an older, successful businessman. The handsome playboy-businessman must choose between his comfortable, yet closeted life in the straight world, or an honest, yet subversive life with the student.
Watch Trailer:
Watch "Lan Yu" Online!
BUY "Lan Yu" DVD with English Subtitles!