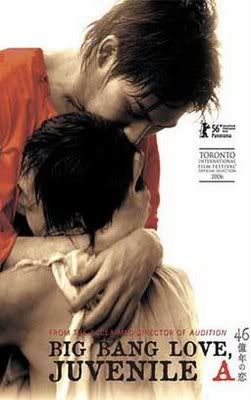 Release Date:
August 26, 2006
Language:
Japanese
Director:
Takashi Miike
Main Cast:
Ryuhei Matsuda, Masanobu Ando
Summary:
Ariyoshi Jun, who worked at a gay bar, is sexually assulted by a customer, goes into a frenzy and kills the man. While being transported to jail, Jun meets another young male: Katzuki Shiro an impressive youth with curious tattoos and looks that could kill. Shiro soon displays his brute force from the beginning. The timid Jun is attracted to Shiro's intensity and strength. Jun is the only person that Shiro opens up to as they accept each other for who they are.
Watch Trailer:
Watch "Big Bang Love, Juvenile A" Online!
BUY "Big Bang Love, Juvenile A" DVD with English Subtitles!