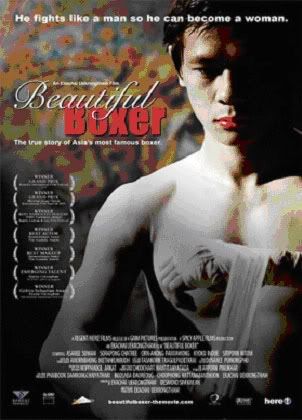 Release Date:
November 28, 2003
Language:
Thai
Director:
Ekachai Uekrongtham
Main Cast:
Asanee Suwan
Summary:
Based on the true story of Thailand's famed transgender kickboxer, Beautiful Boxer is a poignant action drama that punches straight into the heart and mind of a boy who fights like a man can become a woman. Believing he's a girl trapped in a boy's body since childhood, Parinya Charoenphol (affectionately known as Nong Toom in Thailand) sets out to master the most masculine and lethal sport of Muay Thai (Thai boxing) to earn a living and to achieve his ultimate goal of total femininity. Touching, funny and packed with breathtaking Thai kickboxing sequences, Beautiful Boxer traces Nong Toom's childhood, teenage life as a traveling monk and grueling days in boxing camps. Shot in 9 provinces across Thailand and in Tokyo, the film also features a series of explosive matches where Nong Toom knocks out most of his opponents in Thailand and Japan. Directed and produced by Ekachai Uekrongtham, the film stars Asanee Suwan, a real-life kickboxing champ as Nong Toom.
Watch Trailer:
Watch "Beautiful Boxer" Online! (NO SUBS)
*Will update once I find an online version with subtitles!
BUY "Beautiful Boxer" DVD with English Subtitles!
Official Site